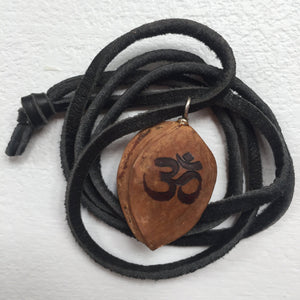 Plum pit strung on black leather. Plum eaten, cleaned and finished by yours truly.
At one time I lived on a magical property with a plum tree that produced the most delicious plums. My love affair with stone fruits was at an all time high and I saved so many seeds during that time, especially from that plum tree. Between oxygen, shade, moisture, seeds and bountiful fruit one tree can provide so much. To me seeds represent life, growth and potential. 
I have always been fascinated by carvings of all kinds, particularly wood, stone and shell. This necklace was inspired by the amazingly intricate Chinese pit carvings.