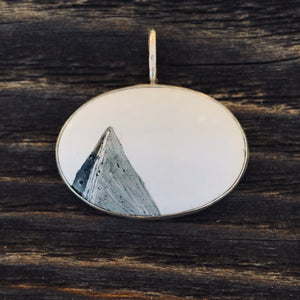 Painted glass enamel pendent set in sterling silver. I decided to offer this piece as a pendent only, giving you the creative power to fashion on a necklace of your desire. 
This piece was made lifetimes ago when I was exploring the very delicate art of painting enamels. I had grand ideas of mountain inspired imagery and a whole collection.. I remember wanting to add a little mountain climber to the right.
Alas this was the only one made like it. A true blue one of a kind jewel.