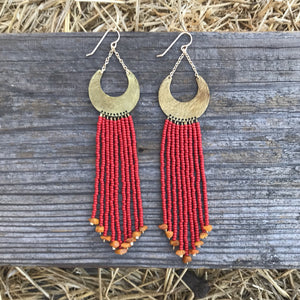 One inch brass hammered piece with Gold Fill ear wire and chain. Red glass seed beads with flashes of amber. This stunner dangling earring measures 5 inches long! Slightly delicate should be treated with care.
Lately I've been drawn to the color red. The red-amber combo with the golden colors or the brass and chain is just so bold and stunning!
I created these designs two years ago, dreaming up road life and "mobile jewelry designs" to fit the lifestyle. Most of the beaded earring collection was made literally traveling and rock climbing at Red Rocks, Las Vegas. 

One of a Kind! Every detail is handmade, many hours of love put into this piece. A great price!