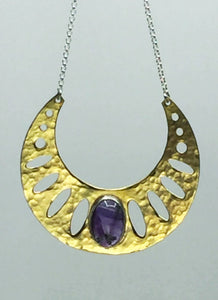 Hammered brass pendent two inches in diameter with an amethyst stone and an 18 inch sterling silver chain. Sterling Silver is nickle free and made with recycled metal.
Open in the back so you can fully appreciate the center stone, the pendent rests lower on the chest in line with your heart. 

The Geometric line is an original style of mine. Each item you see with texture on my website has been hammered by me. This hammered metal style will be slowly phasing out. Perhaps a re-design or different process will be introduced in the future.